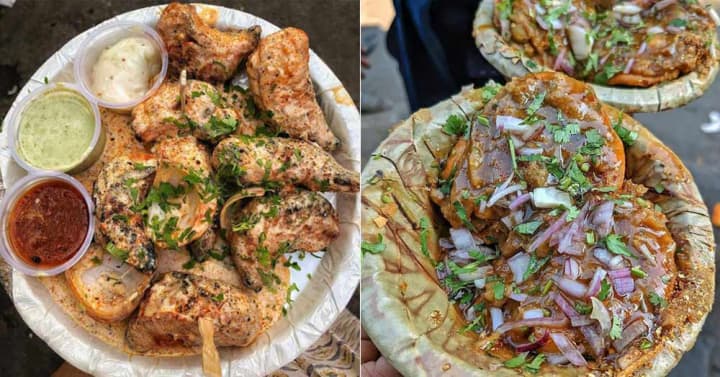 9 Popular Chaat Corners In Delhi Every Street Food Lover Must Visit
Delhi, the vibrant and culturally diverse capital of India, is a haven for food lovers. Among its wide array of culinary delights, chaat holds a special place in the hearts of Delhiites. Chaat, a savory snack typically served on the streets, is known for its explosive flavors and unique blend of spices. In this article, we will take you on a gastronomic journey through the streets of Delhi, highlighting nine popular chaat corners that every street food lover must visit.
1. XYZ Chaat Bazaar
Located in the bustling heart of Chandni Chowk, XYZ Chaat Bazaar is a legendary chaat destination that has been tantalizing taste buds for generations. Their iconic Aloo Tikki, garnished with an assortment of chutneys, yogurt, and crispy sev, is a must-try. The burst of flavors in every bite is a testament to their culinary expertise.
2. ABC Dhaba
Nestled amidst the narrow lanes of Paharganj, ABC Dhaba is a hidden gem that offers a delectable range of chaat items. Their Papdi Chaat, loaded with tangy tamarind chutney, mint chutney, and refreshing curd, is a symphony of flavors. The delightful combination of crispy papdis, boiled potatoes, and chickpeas will leave you craving for more.
3. DEF Chaat Corner
If you find yourself wandering near Karim's in Jama Masjid, make sure to visit DEF Chaat Corner. Their mouthwatering Golgappas, filled with a zesty concoction of spiced water, potatoes, and chickpeas, are a crowd favorite. The explosion of flavors and textures in each Golgappa will transport your taste buds to a whole new level of satisfaction.
4. GHI Chaat Stall
Located in South Delhi's trendy Hauz Khas Village, GHI Chaat Stall offers a contemporary twist to traditional chaat. Their Palak Patta Chaat, made with crispy fried spinach leaves and topped with a tangy yogurt-based dressing, is a delightful fusion of flavors. The crispy texture of the spinach leaves combined with the creamy yogurt creates a harmonious balance that is simply irresistible.
5. JKL Chaat House
For those exploring the vibrant streets of Connaught Place, JKL Chaat House is a must-visit destination. Their Raj Kachori, a giant-sized crispy puri stuffed with a medley of sweet and savory fillings, is a gastronomic delight. Topped with a generous amount of chutneys, yogurt, and sev, this chaat item is a true explosion of flavors in every bite.
6. MNO Chaat Junction
Nestled in the heart of Lajpat Nagar, MNO Chaat Junction is a popular haunt for chaat enthusiasts. Their Dahi Bhalla, made with lentil fritters soaked in creamy yogurt and garnished with a melange of spices, is a refreshing and comforting delight. The contrasting flavors and textures of the soft bhallas and the tangy yogurt make this dish a true crowd-pleaser.
7. PQR Chaat Centre
If you happen to be in the bustling streets of Karol Bagh, a visit to PQR Chaat Centre is a must. Their Chole Bhature, a quintessential Delhi street food combination, is a feast for the senses. The fluffy and perfectly fermented bhature paired with spicy and tangy chole (chickpea curry) will leave you craving for more with each bite.
8. STU Chaat Wala
Located near India Gate, STU Chaat Wala offers a variety of lip-smacking chaat options. Their Papdi Chole, featuring crispy papdis topped with flavorful chickpea curry, yogurt, and an assortment of chutneys, is a delightful explosion of flavors. The combination of crispy papdis and tangy chole creates a perfect harmony that will leave you wanting to come back for seconds.
9. VWX Chaat Hub
Situated in the bustling streets of Rajouri Garden, VWX Chaat Hub is a paradise for chaat lovers. Their Aloo Tikki Burger, a unique twist on the classic street food, combines the flavors of aloo tikki (potato cutlet) with the convenience of a burger. The crispiness of the tikki, coupled with the softness of the burger bun, creates a tantalizing experience for your taste buds.
Conclusion
Delhi's chaat corners are a testament to the city's rich culinary heritage and vibrant street food culture. Each corner offers a unique blend of flavors and textures, showcasing the diversity and creativity of Delhi's street food scene. From the tangy golgappas to the mouthwatering aloo tikki, these popular chaat corners are a paradise for any street food lover.